Composers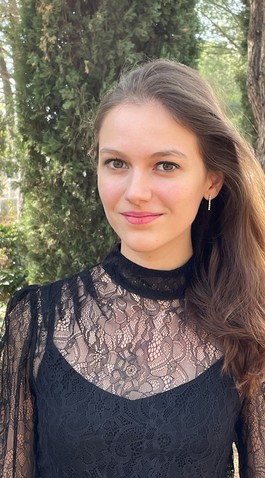 Élise BERTRAND
Élise Bertrand, born 2000 in Toulon (France), took up the piano at 5, the violin at 8, and started composing three years later.
She first studied at the Conservatoire in her hometown before being admitted (at 14) at the Paris Conservatoire where she studied violin with Suzanne Gessner and composition with Nicolas Bacri.
Later, a student of Roland Daugareil at Paris CNSMD, she obtained a master's degree in violin while furthering her training in composition (harmony, counterpoint…)
Élise is currently pursuing a master's degree in chamber music together with pianist Gaspard Thomas, her regular music partner. In parallel, she is artist-in-residence at the Queen Elisabeth Music Chapel, honing her skills with Augustin Dumay.
She has attended master classes at the Villecroze Academy (2019), Seiji Ozawa Academy and International Menuhin Music Academy (2021 and 2022 Summer sessions) and Jaroussky Academy (2021 & 2022).
Élise has won numerous awards and distinctions in violin, chamber music and composition competitions, including the 2019 Ginette Neveu International Competition (2nd Prize and Special Prize for Best Interpretation of Contemporary Music) and Léopold Bellan International Competition (First Prize and Special Prize).
In parallel to her solo and chamber music projects (La Roque-d'Anthéron, Sommets Musicaux de Gstaad and La Roche-Posay 2022, Easter Festival in Aix-en-Provence 2021), the multi-facetted musician is also a member of several ensembles and orchestras (Liège Philharmonic Orchestra, Orchestre de Douai - Northern France, Les Dissonances, Idomeneo Orchestra, Ensemble Les Apaches…).
Her strong commitment to the promotion of lesser-known and contemporary repertoires (violin and chamber music) gives her the opportunity to combine different aspects of creative music-making.
Published by Éditions Billaudot and by Klarthe, her works are commissioned by ensembles, renowned musicians, competitions and institutions. She is regularly programmed and broadcast by France Musique, Radio Classique and ARTE Concert. In May 2022, Élise was one of the three guest-female composers invited at the ClassicalNext International Conference in Hanover. That same year, her Sonate-Poème, Op.11 received the Arras Académie des Sciences, Lettres & Arts Medal.
Élise Bertrand has featured in music magazines such as Classica, Diapason, Pianiste and The Strad Korea.
Lettera Amorosa, her first monographic album (released under the Klarthe label) received critical acclaim in the press and was nominated 'Contemporary Record of the Week' (September 2022) by France Musique critics Emilie Munera and Rodolphe Bruneau Boulmier.
See all works composed by Élise BERTRAND
Discography
Lettera amorosa

Pno : Dana Ciocarlie et Ionel Streba ; Fl. : Caroline Debonne ; Vlc. : Hermine Horiot ; Cl. Joë Christophe ; Alt. : Paul Zientara ; Vl. et Pno : Élise Bertrand

"L'ensemble de mon travail de compositrice puise et s'assume dans un prolongement de la tradition des formes et du langage de la musique tonale élargie du XXe siècle. Initiée depuis mes quatorze ans par Nicolas Bacri à l'organicité, l'équilibre entre le contrepoint et l'harmonie dans la forme, j'ai peu à peu forgé mon identité autour d'un langage poétique influencé par d'autres arts (notamment la peinture moderne et contemporaine et la poésie française d'après-guerre). Ainsi, mon quatuor avec flûte Lettera Amorosa s'inspire de la littérature en tirant son nom du recueil homonyme de René Char, lui-même influencé par le madrigal de Monteverdi." Élise Bertrand